I am lucky enough to be doing some teaching and such this fall and wanted to make you all aware of them in case you are interested in attending.
Now that I live in Denver I am lucky enough to be close to Fancy Tiger Crafts. It's such an amazing store and I love attending craft nights and meeting with all sorts of like minded people there. I am going to be teaching two separate workshops there this fall, both of the Hudson pants. This is a great workshop for those of you who want more experience working with knits. Also, since the men's and women's patterns have the exact same instructions, this is a great workshop for me too. You can use either of the patterns in the workshop. The dates of the workshops are either Saturday October 22nd, or Sunday November 13th. You can sign up for the classes on their site.
I am also going to be teaching a weekend workshop at the Stitch Sew Shop and we will be teaching the Southport dress. I hear that these workshops are so much fun – half learning and sewing and half fun retreat. The workshop is October 7th – the 9th in Alexandria, Virginia and there are still some spots left if you can make it. I am so excited for this weekend. Look here for more information on workshops and how to sign up.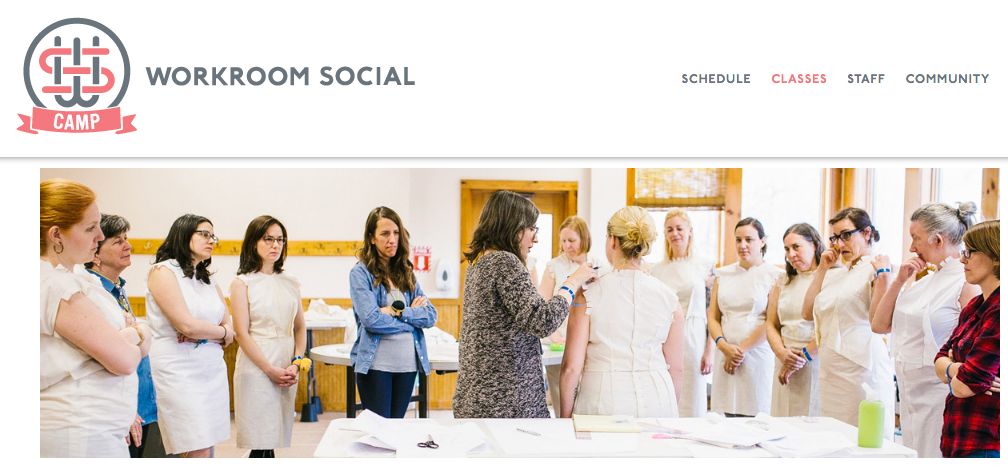 I won't be teaching, but I will be a counselor at Camp Workroom Social this year on October 14th-17th . I am going to be assisting Christine Haynes in her Coats workshop along with Devon of Miss Make. It's going to be a blast and I can't wait to go to camp. I think that all of the spots are filled up for this year, but you can still make pjs for the Camp PJ Party to participate if you are not going. And, if you think you might want to attend next year, I suggest getting on the email list because spots go fast.
I hope to meet / see a lot of you as some of these classes this fall. If you have any questions about them please reach out.